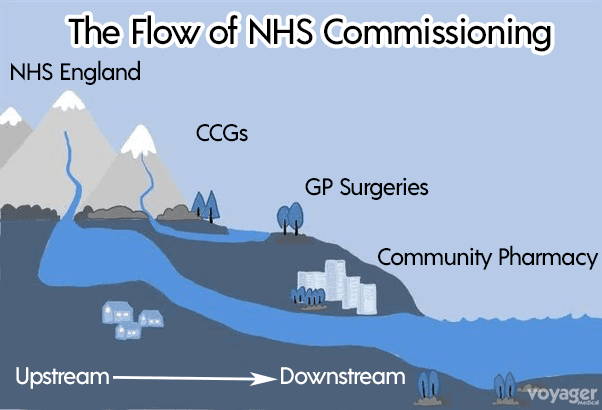 The independent community pharmacy sector is fast evolving into a more service-based model. With the impending acquisition of Pharmacy2U by Amazon and the meteoric rise of internet pharmacies such as Well and Boots… (see image below) We don't have much choice.
Our representative associations have promised more commissioned services to compensate for this loss, but where are they? We are now on equal par with GPs abilities i.e. we have the means to supply medicines and care via PGD or Independent Prescribing but why does the NHS not look at community pharmacy as a low priced alternative to commissioning in primary care? To date we have seen the withdrawal of MUR and Minor Ailments, but where are the new services that will keep us financially viable?
Unfortunately, it seems a round table for commissioning doesn't exist. The NHS is at the top commissioning services, the money for which flows its traditional course, roaring down to the CCGs and GPs and then lastly trickling to pharmacies.
How can we independent pharmacies keep up?
One way is to address a need of your commissioner, find where there is an issue in the system and create a solution. But where can you find an established need? One place is going direct and searching for local NHS tendering websites and procurement requirements. However, competition here is fierce from larger chains and medical agencies.
A fascinating place to find an issue which needs resolving is the Courts Tribunals Judiciary website. This site publishes a list of preventable deaths attributed to alcohol, drug and medication. Here is a quick summary of the latest entries… (Or make an entry yourself by clicking this link…
Many of the issues listed relate to overdoses with tramadol, even though the medicine was reclassified as Schedule 3 in June 2014. As a pre-reg tutor why not get your Pre-Registration student to go through this list, get them to pick one issue that a pharmacy could potentially resolve and design a solution. In the case of tramadol, why could there not be a specialised MUR-like service which audits patients who may be at risk of overdose?